Rounding Up the Best YEEZY BOOST 350 V2s After "Dazzling Blue" Release
Following the debut of Kanye West's Donda 2, YEEZY has released a new BOOST 350 V2 with a "Dazzling Blue" stripe running down the "Core Black" base. Parts of the album are presently available to stream exclusively on Ye's immersive Stem Player, which includes the tracks "Pablo," "Broken Road," "Security," and "We Did It Kid." This isn't the first time Ye has revealed a new 350 model in conjunction with his music, but it is a special occasion for Donda aficionados.

To celebrate the release of the new album and the release of "Dazzling Blue" check out some of the most remarkable BOOST 350s released since 2015.

Release Date: February 26, 2022
Lowest Price: $600 AUD
"Dazzling Blue" is out today alongside parts of Ye's Donda 2 album, with select tracks accessible to stream exclusively on the Stem Player, YEEZY Tech and Kano Computing's immersive streaming centre. "Dazzling Blue" is a slight variation from its predecessors, featuring a knitted Primeknit upper in "Core Black" with a cobalt blue stripe that fades away on the other side. A hefty rubber gum sole with BOOST cushioning — a responsive EVA foam manufactured by adidas — is followed by the distinctive 'SPLY-350' logo in black text.
Release Date: June 4, 2019
Lowest Price: $675 AUD
"Black Reflective" debuted in 2019 with an all-black Primeknit upper and a single brilliant red dashed line at the heel tab. The classic 'SPLY-350' logo has been replaced by a sheered-out stripe that runs along the upper. Monochromatic laces and a BOOST midsole round off the blacked-out body.
Release Date: February 25, 2017
Lowest Price: $600 AUD
The model's two-tone colour design was revised with a textured pattern in black and white in 2017, which was accentuated by an inverted 'SPLY-350' hit in rich red letters. The full-foot BOOST cushion platform is encased in a translucent rubber midsole. "Zebra" has been reissued twice since its initial release due to high demand.
Release Date: April 29, 2017
Lowest Price: $800 AUD
In 2017, the "Cream White / Triple White" model debuted with a triple-white threaded upper, following the must-have "Zebra" release. The typical monofilament stripe accent and 'SPLY-350' logo on the side panel are missing from the profile. The monochrome hue incorporates a draw button at the outside heel and the adidas trefoil and YEEZY emblem embossed atop the insole in black, making it one of YEEZY's most minimalist styles.
Release Date: September 24, 2016
Lowest Price: $1000 AUD
"Beluga" was included in the 2016 YEEZY Season 3 show at The Life of Pablo and Madison Square Garden. The model comes with a textured tan upper and features bright orange contrast stripes with the letters "SPLY 350". A full rubber sole with BOOST cushions and spotted brown lace completes the look.
Release Date: November 23, 2016
Lowest Price: $1190 AUD
With the YEEZY line getting a lot of attention, adidas was preparing to release a red model in 2016 with two other colour-ways, Green and Copper. A bright red dyed monofilament stripe runs down the outer sidewall of the jet-black upper, and thanks to the threads on the upper, there are spots of soft tones throughout the body. Thick BOOST midsole and woven lace complete the minimalist silhouette.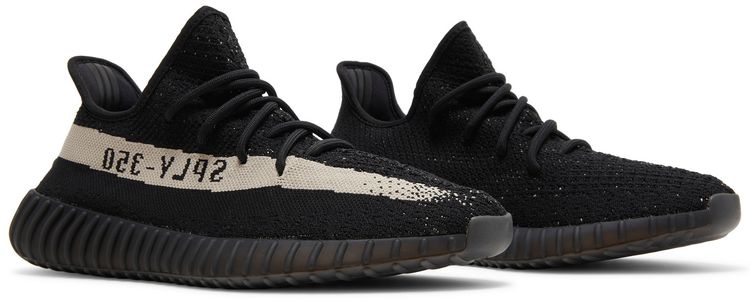 Release Date: December 17, 2016
Lowest Price: $600 AUD
Released in 2016, the Oreo colour-way features a black-and-white concept with a single white line running between the black uppers. With the exception of the "SPLY 350" panel logo, all signature models are offered in black monochrome, down to the translucent midsole.